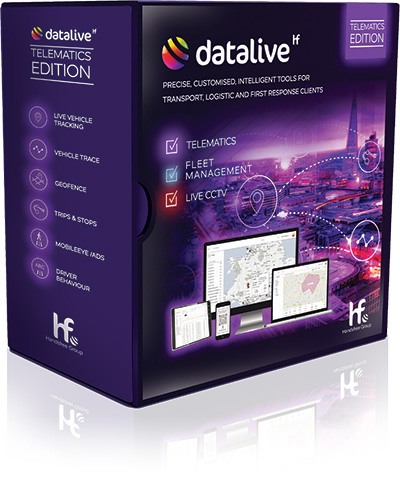 Datalive telematics provides fleet managers with web based 24 / 7 intelligence insight and operational control they need to run a more cost effective, safe and efficient fleet.
Our versatile vehicle and equipment telematics solution is modular. Our specialist team build custom systems for our customers, that meet a companies exact requirements.
Datalive is a flexible and web-based solution that can be configured as a single or multi feature telematics suite for cars, vans and commercial vehicle fleets of all sizes. Datalive provides immediate operational benefits and financial returns.
View the modular bundles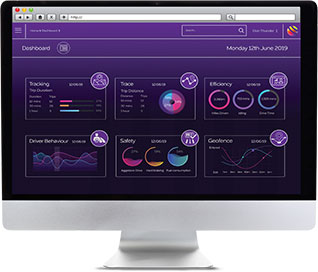 The specialist consultation team at Datalive telematics help businesses of all sizes make better informed strategic fleet decisions, that are proven to deliver improved efficiencies and reduced costs.
Datalive telematics is a highly configurable, modular and scalable telematics solution, with many customisable choices to meet the most demanding operational needs and business requirements.
Our innovative technology offers market leading live tracking, driver behaviour, 2 way communication, vehicle control and customised reporting to help transport managers optimise fleets of all sizes.
Live Vehicle Tracking
Technology
Web-based 24-7 access
Configurable intelligence dashboard
High quality mapping
Geofence reporting, triggers and alerts
Vehicle trace, incorporating trips and stops
Nearest-vehicle-to-location
Remote vehicle control
Solution
Improve customer response and delivery times
Improved green credentials
Better MPG
Extensive & customisable reporting suite
Increased productivity
Eliminate unauthorised vehicle use
More responsible drivers
Reduced insurance premiums
Geofence Functionality
Technology
Unauthorised vehicle movements
Multiple geofence zones
Named location
Time-bound rules
Arrival and departure logging
Automatic alerts via email and SMS
Schedule automated geofence reports
Mandatory and prohibited zone modes
Import existing Geofences from other systems
Solution
Secure vehicles and important assets
Prevent unauthorised use
Reduce expense claims
Site Arrival and departure records
Reduce vehicle and equipment theft
Eliminate driver logs
Manage unnecessary vehicle use
Ensure optimised driver routes
Reduce lengthy communication processes
Datalive has given us total asset visibility. Directly or indirectly it has assisted us in reducing our company fuel usage by 12%, whilst allowing us to increase productivity"

Simon W, MD, Uniscope International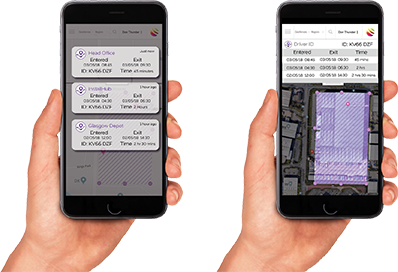 Our team of specialists help fleet managers enhance security, improve utilisation, increase efficiency and support compliance, by setting up geofences.
Datalive vehicle tracking solutions offer geofence functionality within the vast suite of Telematics modules.
Performance & Integration
Reduce fuel consumption and operating costs by configuring multi-dimensional custom reports on several vehicle and driver performance aspects, through the Datalive performance & integration reporting suite.
Optimise route scheduling
Fuel consumption monitoring
Passenger counting
Engine idling
TPMS (Tyre Pressure Monitoring System)
Maintenance schedules
Temperature monitoring
Onboard weighing
Create highly efficient routes
Save drivers time in planning
Replace traditional mileage logs
Savings in fuel costs
Proof of delivery condition
Fuel card matching
Lower servicing and maintenance costs
Better manage vehicle mileage allowances
Driver ID
Technology
Dallas key or online vehicle/driver pairing activation
Live vehicle location, timestamp and movements
Hours of service logging
Report generate by driver, vehicle or type of vehicle
Nearest-driver-to-location search
Start and finish times for individual drivers
Out of hours activity
Driver licence and vehicle record linking
Driver performance, scoring, running order and reports
Solution
Improve customer response and delivery times
Driver behaviour awareness
Accident & damage analysis
Driver accountability
Stop unauthorised vehicle activity
Support for overtime claims
Driver vs. vehicle authorisation
Last known speed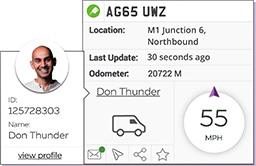 Get visibility of exactly who is driving any given vehicle and their precise location. Optimise your resources, while maintaining your duty of care by using Datalive Driver ID.
Safety
Technology
Door opening / access control
Hidden acknowledge distress feature
Tyre pressure and axle weight monitoring
Alcohol test interlock
Driver behaviour monitoring and scoring
Solution
Address issues and avoid losses
Awareness of alcohol infringements
Incentivise and reward safe driving
Improve productivity and efficiency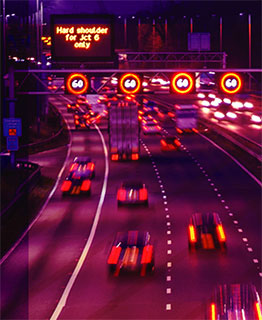 Protect the welfare of vulnerable or lone workers while ensuring goods are being transported safely and correctly.
Datalive monitors all driver activity and critical vehicle data. Fleet managers can easily analyse real-time or historical vehicle information.
With our configurable reporting suite and alert functionality Datalive users can be a highly-effective and productive supply chain for their clients.
Vehicle Communication
Technology
2 way driver messaging system
Pushing route schedules direct to Garmin satellite navigation
Driver feedback panel
Panic button and hidden distress call
Engine data
Engine diagnostics / DTC (Diagnostic Trouble Codes)
Solution
Quickly alert drivers of potential problems
Make driver route changes quickly and easily
Reduce expensive servicing bills
Keep a reliable fleet
Proactive maintenance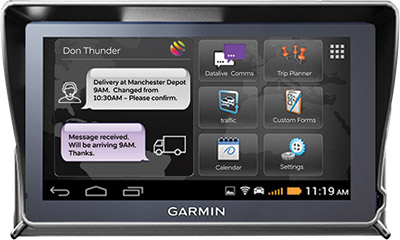 Deliver timely information to drivers in an efficient, responsible and legally compliant way.
Efficiency Reporting
Technology
Vehicle odometer
Vehicle trace report
Time sheets of vehicles
Vehicle trips and stops
Solution
Assess driver and vehicle activity
Identify speed infringements
Visibility of vehicle trips and stops
Sequentially playback vehicle journeys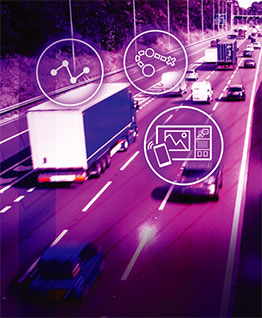 Maximise the efficiency of any driver and vehicle over a specified time frame by the Datalive Telematics customisable reporting suite.
Driver Behaviour
Technology
Acceleration
Braking
Cornering
Idling
Speeding
Safety score
Solution
Reduce fuel expenditure
Lower insurance premiums
Improve maintenance costs
Lower CO2 emissions – better MPG
Fewer road accidents
Recognition for safe driving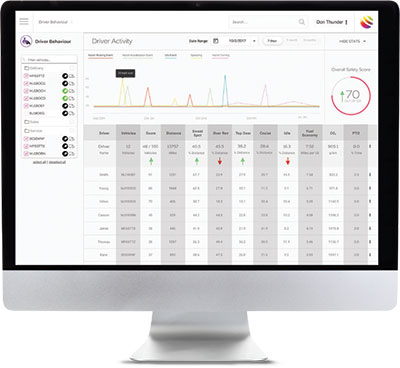 Manage risk, and fulfil your 'duty of care' obligations for drivers. The Datalive driver behaviour module scores driving style and identifies those people driving efficiently.
Monitor aggressive or defensive driver styles of individuals or group with applied risk scoring.
Datalive driver behaviour provides you with the information you need to target training precisely where it is required, as well as reward and encourage safe driving.
Trailer Tracking
Technology
Fully configurable Geofence
Service scheduling
Trailer health reporting
Brake system monitoring
2 way temperature control
Automated alert notifications
Heavy duty design
Solution
Track trailer locations and inventory
Help protect, detect and recover stolen assets
Get total mileage visibility
Monitor trailer health and schedule service intervals
Check and record braking system performance
Manage the refrigeration and temperature of goods
Salt corrosion and extreme temperature protected unit
We have successfully achieved an annual fuel reduction of up to 10.1% resulting in approximately 1.44 tons of CO2, or around $833 / vehicle"

Paul M, Fleet Op's Manager, Nestle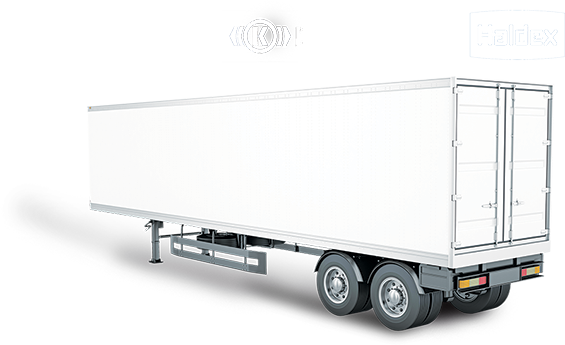 Get increased visibility of your fleets trailer utilisation & lower your operating costs. Advance security, reduce fuel costs and cycle times, while improving maintenance.
Maximise your fleets efficiency by monitoring real time alerts. Detect doors opening, cargo being unloaded and unauthorised use. Schedule preventive trailer maintenance and reduce down-time by monitoring brake performance.
Datalive's unique modular technology, integrated EBS power capabilities and configurable reporting suite make it a cost-effective telematics solution for trailer tracking.